Blondes on Beer: Kilowatt lights up Ocean Beach brewing scene
BLONDES ON BEER:
Welcome to our inaugural Blondes on Beers column! As co-beer enthusiasts, we — Ashley Mackin-Solomon and Crystal Hoyt — will use this report to explore the breweries and tasting rooms in Ocean Beach and Point Loma.
Though we are by no means "experts," we love beer and are here to delve into what makes each brewery different by meeting with the brewers and sampling some of their signature beers.
As a bonus, we've decided to include an "out of our wheelhouse" beer to our outings, these will be those we'd never try on our own.
For this initial installment, we visited Ocean Beach's Kilowatt Brewing Company and sat down with co-founders Rachel Fischer and Steve Kozyk. The dog- and kid-friendly tasting room boasts an electrically-charged atmosphere and inventive, if not eccentric, flavor profiles.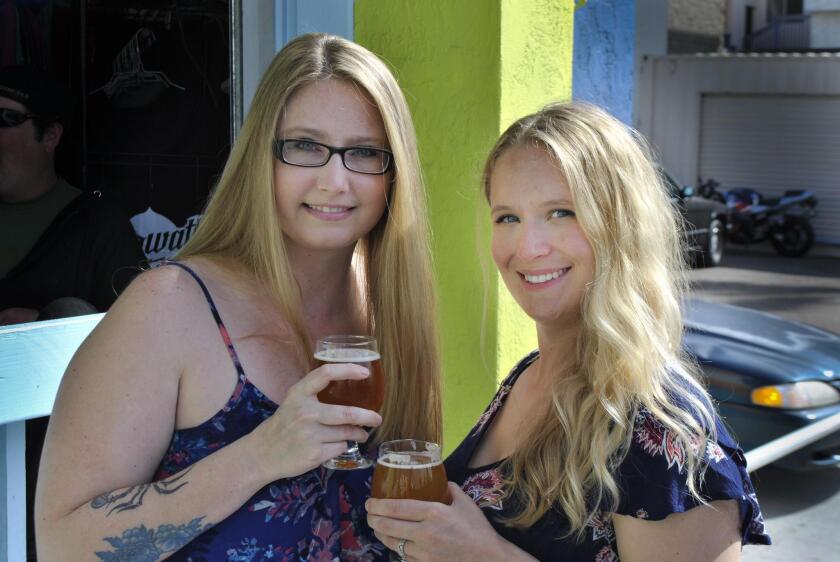 "We chose the name Kilowatt because it denotes energy, it also lends well to the lighting we have and the vibrancy of our tasting room," Kozyk explains. "We have a lot of psychedelic art we rotate in, often from local artists. We have giant games, including a six-foot tall Lite-Brite board. We want people to go off digital. When you come in here, with our analog games and things, you don't see people on their phones as much, they are interacting."
Because Kilowatt is a small-batch brewery, Kozyk added they can get "creative" with their recipes. "That's not to say we don't have basic styles represented, but we hang our hat on providing a unique beer experience," he said.
Case in point: the Wilson the Coconut, an India Pale Ale (IPA) that deviates from the coconut stouts and porters that have become familiar fixtures, and the Smoked Cardamom Mezcal scotch ale, which has three smoked elements to it. There are also the fruit-forward sours in the S3 (Super Sour Series) group, and the richly sweetened stouts and porters.
"We want our customers engaged because they could be having a beer they've never seen before and may never see again," Fischer said. "We have a lot of people who come in with someone that really loves craft beer, but they don't as much, so we can give them different beers that aren't typical. They'll try one of our fruit beers and say, 'I never knew beer could taste like this!' — and our beers are conditioned with real ingredients (not syrups or flavorings)."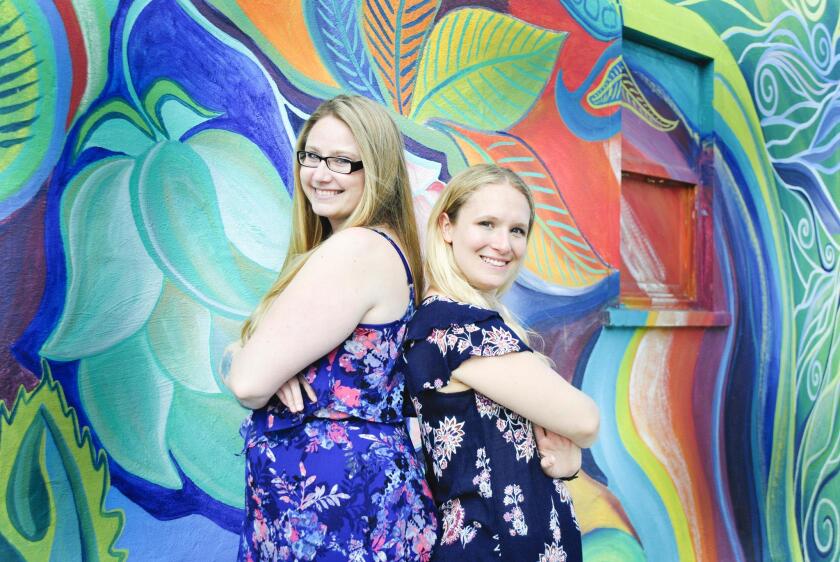 She added that while they probably serve as many "standard beers" (from pale ales to IPAs to barrel-aged stouts), the unique ones are the ones people remember.
In addition to the beer, Kilowatt is a venue for art events, food-and-beer pairings and craft nights.
On April 19, Kilowatt will host an art reception for the Spaceman of OB, who passed away in 1993, and was known for doing black light art in the 1950s and 1960s, before anyone else. In May, there will be another reception where pieces will be for sale.
But, on to the important stuff: the beer! Kozyk and Fischer offer their choice of half-pints to start, then choose our own flights of four, four-ounce tasters.
Beer first impressions
Crystal: I have the Obliquity Double IPA. It's smooth and goes down easy for something that is 9 percent alcohol. For all the hops in it, there is no aftertaste, which can happen. This beer would be my top recommendation to friends, whether they like IPAs or not; it's incredibly enjoyable.
Ashley: I have the Kilowatt Pale Ale, which has a hoppy aftertaste. It tastes like a step up from a normal pale ale, but not quite to the intensity of an IPA.
Venue first-impressions
Crystal: I've been here before, but there's so much to take in when you first visit. In a split second, I ask myself, 'what do I want to check out first? The black light art? The oversized light bright? The lightning cloud installation in the back?' I'm distracted for a moment, but then I remember why I'm here: Beer. Beer first, art and games later.
Ashley: Killowatt seems like a good fit for OB. There are light fixtures in the shape of hops, there is a Rick and Morty curtain, 3-D glasses for the art, and a guy dressed in a suit with one giant hamburger printed on it.
Reflections on our beer choices
Crystal on the Tangerine Sour: I like sour beers and this is on the subtle end of a sour beer. It's sour, but not overly tart.
Ashley on the Coconut IPA: I'm not a big coconut fan, and there is coconut sweetness in the front and IPA bitterness in the back.
Crystal on the Guava IPA: It's subtle, but very drinkable. I could see myself enjoying this as an everyday beer. It doesn't taste like other guava drinks I've had. There's no bitterness or fuzzy aftertaste.
Ashley on the Guava IPA: I agree that it's subtle, and there isn't a distinct guava flavor for me, but it is hard to say what it would taste like without that fruity sweetness. With the fruit sours, the flavor is undeniable, but the fruit-based IPAs have sweetness but not necessarily identifiable fruit flavors.
Ashley & Crystal on the Smoked Cardamom Mezcal scotch ale, an "out of our wheelhouse" beer: As we nervously brought the tiny glass to our lips, we both observe the smell is quite smoky, almost intimidating, but not as intense as we both thought. We sip, look at each other and realize we are both pleasantly surprised. It was smooth with only a little bit of a lingering smoky aftertaste.
The Brewers also recommend blends to us, such as a blend of two fruit-based sours or what they call the Almond Joy, which is the Wilson the Coconut IPA with the Chocolate Macadamia Nut Stout.
Ashley: I won the day with the pineapple sour mixed with Smoked Cardamom Mescal scotch ale!
Crystal: I don't not like stouts or porters, but would have a whole pint of the Almond Joy blend. It's chocolatey rather than roasted. It was the perfect ending to our beer tasting — like liquid dessert.
COMING NEXT MONTH: Our Blondes on Beers visit Modern Times in Point Loma.
________________
Kilowatt By the Numbers
• Open Since: January 2017
• Taps: 24
• Prices: $1.50-$2.50 for a taster; $5-$7 for pints
• Alcohol by Volume range: 3.3 to 9.6 (as of our visit)
• Capacity: 99 inside, plus an outdoor patio
• Hours: Noon to 10 p.m. Sunday-Thursday, noon to midnight Friday, Saturday
• Address: 1875 Cable St., Ocean Beach
• Phone: (619) 255-9775
• Web: kilowatt.beer
---